COVID-19
CRISIS WARMLINE
410-768-5522
24 hours a day, 7 days a week
Maryland Department of Health releases FAQ Document for Post Covid-19 Executive Orders
On July 1, 2021, certain executive orders issued during the State of Emergency were terminated. One of the orders was Executive Order 20-04-01-01, which expanded the use of telehealth and audio-only services. This order is replaced by the Preserve Telehealth Act (SB 3).
CLICK HERE to view a list of FAQs regarding this update.
If you have a behavioral health question related to post COVID-19 telehealth services, please contact bha.inquiries@maryland.gov with additional questions or concerns, or contact your Local Behavioral Health Authority
Maryland Department of Health Releases Resource Guide for Students and Young Adults Coping with Covid-19 Pandemic
Who is Providing Covid-19 Vaccines in Anne Arundel County?
Five Tips from Mental Health First Aid to Help You Maintain Resilience in 2021
A message from our Executive Director
After the whirlwind of holiday activities, It is hard to believe that 2022 is here. Ringing in a New Year brings a sense of renewed hope for joyful days ahead. In that spirit, we ask that you join us in making part of your New Year's resolution a personal commitment to making choices for improved health.
Making better health choices is a realistic goal and one we encourage our community partners to support. Behavioral health services and supports that are accessible and effective help our community achieve these goals.
In particular, the health of our youth is something that many of us are increasingly focused on. Anne Arundel County Public Schools will be showing the film, "LIKE" on Monday, January 24th, 2022, at 7 p.m. This film addresses the relationship between social media and mental health. The screening will be followed by a pre-recorded panel discussion about the impact of social media on children and adolescents. More information on viewing the documentary will be found at www.aacps.org in early January.
We hope that our Anne Arundel County residents have and continue to find our services supportive in achieving improved health. We will continue to focus on making ourselves readily available to helping families maintain and regain wellness. In addition, we encourage all who have not yet received Covid-19 vaccinations or boosters to do so.
Wishing you and your family a happy and healthy New Year!
Sincerely,
Adrienne Mickler
Latest News
Panel Discussion: Gaps in Behavioral Health Services for Black & African American LGBTQ+ People
The University of Maryland School of Social Work Center of Excellence on LGBTQ+ Behavioral Health Equity will be holding a panel discussion on Wednesday, February 16th from 3:30 PM-5:00 PM ET.
Join them for a discussion with panelists concerning the gaps in behavioral health services that exist for Black and African American LGBTQ+ people and what providers can do to fill those gaps.
To register for this event, or learn about other upcoming events, CLICK HERE
SMART Tool-Self-Assessment for Modification of Anti-Racism Tool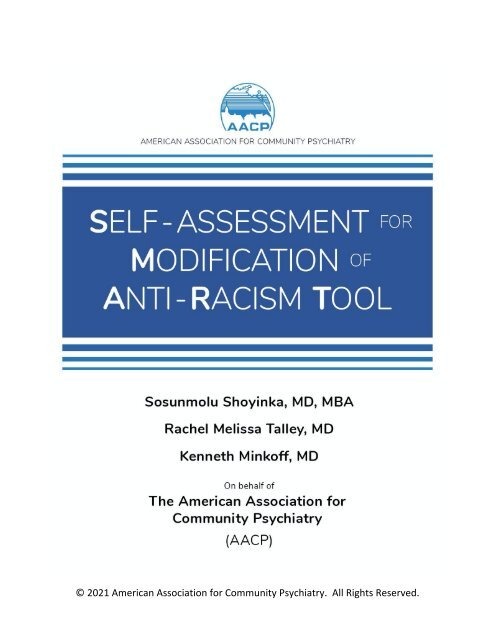 SMART is the first tool designed specifically to help community behavioral health organizations to assess the extent to which their organizational and clinical processes are affected by racism, and to use that information to create measurable progress in becoming anti-racist at all levels.
The tool is intended to encourage behavioral health providers to implement concrete organizational change in multiple domains, challenging community behavioral health providers to be proactively and intentionally anti- racist in their operations.
Virtual School and Community Behavioral and Mental Health Resources Presentation
Adrienne Mickler and Catherine Gray, both from the Anne Arundel County Mental Health Agency, recently held a virtual presentation with Ryan Voegtlin (Director of Student Services, Anne Arundel County Public Schools). The topic was School and Community Behavioral and Mental Health Resources. To view the recording of this presentation, CLICK HERE.
The Department of Aging and Disabilities Caregiver Educational Workshops for January 2022.
The Anne Arundel County Department of Aging and Disabilities will be offering two free virtual Caregiver Educational Workshops in January of 2022. Topics will include "Can I Grieve if Nobody Dies?" and The Dementia Live® Program.
Maryland's Office of Suicide Prevention Release Youth Suicide Prevention Toolkit
During the pandemic, data has continued to show a concerning rise in youth suicide. To help make adults and professionals more aware of this growing reality, the Maryland Office of Suicide Prevention has developed a toolkit, "Keeping Our Kids Safe" to address youth suicides. This comprehensive resource is also appropriate for teens looking to learn more about how to ask for help.
To download the toolkit, CLICK HERE
Crisis Resources
Support During a Crisis
The Anne Arundel County Mental Health Agency and the Anne Arundel County Department of Health have compiled the following information and resources for addressing mental health and overall well-being of children and adults.
If you have Experienced a Traumatic Event or Critical Incident...
If you have experienced a traumatic event or a critical incident (any event that causes unusually strong emotional reactions that have the potential to interfere with the ability to function normally), even though the event may be over, you may now be experiencing or may experience later, some strong emotional or physical reactions.
Coping With Tragedy Video
About AACMHA
The Mission of the Anne Arundel County Mental Health Agency is to provide leadership and collaboration for planning, monitoring, and managing of a comprehensive, quality, person-centered, Behavioral Health continuum of care for Mental Health and Substance Use Disorders that promotes prevention, recovery, resiliency, health and wellness for our residents who have, or who are at risk for, these behavioral health disorders.
The Anne Arundel County Mental Health Agency (AACMHA) is dedicated to ensuring that Medicaid recipients and other low-income, non-insured county residents who meet certain criteria have access to a wide range of quality mental health services.
There are numerous agencies involved in providing mental health care and many different words are used to describe services. If you don't understand what a word or term means, visit our words to know page for more information.